Visit the Peltier Subaru Service Center near Athens, TX
If you're driving around East Texas day-in and day-out, you want reassurance that your vehicle can handle it. When you own a Subaru and you get it serviced at our Subaru dealership near Longview, TX, you're setting yourself up for success. Wear and tear is inevitable, but it's how you fight that wear and tear that really matters. Our expert Subaru service techs are dedicated to making car-troubles simply fade away, because you should be able to enjoy your drives with total peace of mind.
Make sure to also check out our latest service specials whenever you make an appointment. You may find that you can get the service you need for a fraction of the price when using one of our many coupons. Need a new set of tires or trying to buy OEM Subaru parts and accessories? Not a problem! You can order them online or browse our shelves in person to get what you need. Bring your Subaru in for repairs and maintenance at Peltier Subaru and you'll be driving stress-free for miles to come!
Meet our Parts Manager, Daniel Carter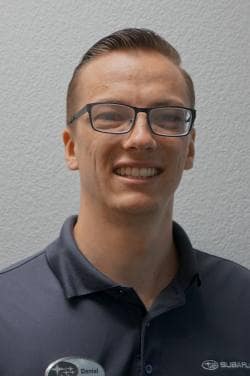 Hello, my name is Daniel Carter and I am the Parts Manager at Peltier Subaru. I have been with Peltier since 2011, starting as a Parts Counter Professional at P
eltier Nissan and moving to Peltier Subaru when it opened in April 2013. I was promoted to Parts Manager soon after. I enjoy exploring vehicle mechanics and am very knowledgeable about the auto parts industry. I would love to assist you in finding the right vehicle parts and accessories!